Have you ever noticed that, in many books, the annoying character is the aunt? Either the aunt or the great aunt- very often, very, very often the aunt or great aunt is annoying, bossy and strict. Often, they improve as the end draws near, of course, but have you not noticed that it's always the aunt?
Wooster: "My Aunt Agatha is sitting out there just waiting to pounce."
Let's take a look at those (great) aunts.
Aunt Polly
In 'Pollyanna', her aunt Polly is exactly suited to my description above. Annoying, bossy and strict. Aunt Polly is unkind and grim on top of that. And hardly ever smiles. I love it so much when Pollyanna tells her she loves her punishments. 'Oh, thank you, Aunt Polly! I love bread and milk!'
But in the end, Aunt Polly softens and becomes a much nicer person. But still, there you go, that was the first aunt.
Great-Aunt Josephine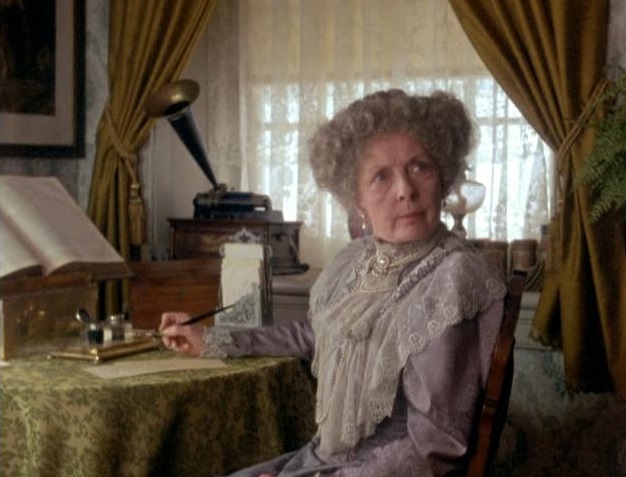 I think Great-Aunt Josephine in 'Anne of Green Gables' changes rather too quickly. At first she's mean, menacing and threats to break all the golden promises she promised her niece, Diana, and then Anne comes (go, Anne) and she forgets all, becomes a bubbly, delightful thing and takes Diana and Anne on a sightseeing trip. Still, it's another Aunt who's got her less magnificent ways.
Lady Catherine the Bourgh
Even Jane Austen did it. We sometimes seem to forget that this is Mr Darcy's aunt. And what an annoying, picky, wacky one she is! This one is so stubborn, mean and proud she never changes. In fact, we see a shot of her, dully in her chair at home- face furious- when somewhere else Darcy and Elizabeth get married agaist her approval. Ha.
Aunt Shaw
I know her role is rather minor in North and South, but I had to add her. In my opinion, Aunt Shaw is dashingly annoying. I had to add her to my list.
Aunt Elizabeth
If you haven't read (or watched) 'Emily of the New Moon' you won't know how HORRID this aunt is. She's supposed to have a good heart, but seriously, I've read the books about five times and she only does like two good things in her life. She's horrible. When you read the books (and I definitely do recommend them, I love them to pieces) you'll notice you actually want Emily, her niece, to disobey her. She's that horrid and that strict.
'Emily of the New Moon' has many other strict aunts and uncles, including a monstrous great-aunt Nancy, who threatens to put Emily in a great clock if she's naughty... Lucy Maud Montgomery was really into that. But, I must say, isn't it fun to read! Same with all the aunts and uncles in her speldiforious book 'The Blue Castle'. Go, read it.
Aunt Pittipat
I don't know if you have the same feelings on Aunt Pittipat in Gone With the Wind as I do, but... well, yep I thought she was a dashed nuisance. Always fainting and yelling for those smelling salts of hers.
Aunt Agatha
This is how Wooster looks when he talks/thinks about her:
This is how Wooster looks when Aunt Agatha speaks to him:
That pretty much explains it, doesn't it?
I'm sure there are more annoying aunts in films and books, but for now, this is all. Do you know any more?