I read all the Anne books these last two weeks. I started with Anne of Green Gables, and now I've just finished Rilla of Ingleside and my eyes are still wet with tears. GAH. I never realised how much I loved the Anne books. Some of them are less good than others, but... in the whole... they're GOLD. They really are! I'm convinced they are the best series in the world. Ever.
I've survived SO many feels these past two weeks. I'm exhausted from shipping Anne and Gilbert (it's tough, let me tell ya) and I'm torn and heart-broken about my darling love Walter and that kiss he gave Una on the station. (Just no and yes and no. I can't even.)
Here are all my reviews of them. (If you follow me on Goodreads, you might have read them already.)
______________________________________________________________
Anne of Green Gables

by L.M. Montgomery
My rating: 5 of 5 stars
THIS BOOK IS DIVINELY ROYALLY STUNNING AND GORGEOUS. (There. I daresay Ann Anne would approve of that.)
I have such good, good memories of this book. I remember my mum reading it to me when I was about eleven, in the evenings, and being completely enTRANCED at it. I loved it all, even the description of Rachel Lynde's garden flowers and Anne's yellow ugly orphan dress. I didn't want her to stop reading it, and my heart tore a little when it was time to go to bed. Then I remember recieving a copy with Megan Fellows on the cover for Christmas and being thrilled to the bone about it. I've read this book so many times- my copy is all bent and crumpled and old (and I've also read it several times on my kindle.)
Anyway, this book is beyond description to me. I love it so much. (Although I love 'Rilla of Ingleside' and 'The Blue Castle' even MORE. Is that possible.)
List of Random Things I Loved:
1. There aren't many books that start with a minor character. Anne of Green Gables (which starts with the delightfully blunt Rachel Lynde) taught me that this is such a clever idea, for a writer. It gives us immediate insight on the main characters from another person's view. (If that makes sense.)
2. Prince Edwards Island. One day I will visit you.
3. ANNE SHIRLEY. OMG. OMG. I love her so much. I do understand why she annoys some people, actually, because she does kind of talk a LOT (let's not even try to deny that.) But she's so DEAR and darling, and she means so well, and oh... I want to be her so badly sometimes.
4. Marilla. I used to find her REALLY annoying, but now I really love her. Oh, I cried when she cried in the end, when Anne went off. And Oh, how I laughed when she stopped one of Anne's endless monologues, with a, "For heaven's sake, hold your tongue." She can get away with that.
5. Matthew. THE DEAR MAN I NEED TO HUG HIM. I cried when he died, peoples - I can't help it, I'm just so emotionally invested in these characters. Matthew is the most adorable little peach of an old man ever and I understand why Lucy Maud Montgomery regretted killing him off so soon.
6. Diana is a really good bestie. Although she lacks imagination.
7. All the funny bits. Can I even start?!!! I mean, there's the raspberry cordial incident, the brooch affair, the haunted woods calamity, the jumping-on-a-great-aunt-story, the desperately hilarious apologies, the mouse in the cake, the slate-over-a-head epicness... and oh, ENDLESS. I love them all. Goodness, I want to have loads of kids just so I'll be able to read Anne to them.
8. Anne's puffed sleeved dress! Brown gloria (not light-blue, movie people. Hello.)
9. The elegant concerts, Mrs Spencer, all the school-mate gossip.
10. GIL. I mean, Gilbert Blythe. HE REALLY IS A NICE KIND OF BOY. I mean, if you get what I mean. I mean, he's not bad. You know. I wouldn't mind reading a little more about him. You know, if you forced me. I wouldn't say no.
11. I love everything Anne says. Her past and her stories and her romantic ideas thrill me to the very soul. (Look how she's intoxicated me.)
12. Her story about Geraldine and Cordelia though. I LOVE IT. :-D (Cordelia drowns with her lover who 'forgot he couldn't swim' and Geraldine ends in a lunatic asylum. Yes. I love that. :-))
13. I LOVE IT ALLL. This list is not complete.
What I don't like as much:
1. The last chapters. It's all a bit melancholy and Anne grows up and I HATE IT. *sulks*
2. Wait, is there a number two?
So yes. One of the best books ever.
______________________________________________________________
(View all my reviews)
Anne of Avonlea

by L.M. Montgomery
My rating: 4 of 5 stars
I'm torn between rating this four or five stars. On one hand, I loved it much better than I remembered, but on the other hand, I still don't adore it like some of Lucy Maud Montgomery's other books. So four stars it is. I'm going to be awful pessimistic today and start with 'what I didn't like's first. ( Don't ask me why. )
What I did not like:
1. Anne, I still love her ... but she's just not the SAME and it always breaks my heart a little. Of course, she's still ANNE - she does talk to herself and think up whimsical things. (She changes even MORE in the later books - she's still pretty Anne-ish in this one.) But still. She's sixteen in this book! Like, she's changed so much since when she was 14!
2. Diana's plumpness is mentioned too often. Like hello. I KNOW IT BY NOW.
3. The secondary characters don't have the same place in my heart like the secondary characters in Anne of Green Gables. I love Matthew far better than Mr Harrison, and Mrs Stacy or Mrs Allen far better than Mrs Lavendar or Charlotte the Fourth.
4. Not enough Gilbert. I mean it.
Now! What I LOVE ABOUT THIS BOOK. Because I DO looove this book. It's a darling and filled with sunbeams of delight.
1. Anne still has her whimsical fancies, thank GOODNESS. She still is pretty Anneish. As I said, I do love her a lot. And goodness, I relate to her soooo much in this book. She's sixteen-going-on-seventeen (mah age) and the things she does are just SOOO me.
2. THE COW INCIDENT. Nope. I'm not laughing.
3. GILBERT BLYTHE. Um hello excuse me while I go and swoon and scream over how badly I ship the two of them.
4. THAT SHIRBERT SCENE. WHERE ANNE BLUSHES FOR A MINI-SECOND AND GIL SEES IT. Um, excuse me while I ship these two for 3 hours.
5. Davy Keith is indescribably naughty (I would hate him in real life - he's worse than my brothers, gosh (view spoiler)[ I do love my brothers though. They're precious human beings who just do weird things. Haha this is not a spoiler. Gotcha. (hide spoiler)]) but Davy is still kind of an adorable peach. And he's HILARIOUS.
6. Davy: "Preserves is a holy way to say jam." Anne, trying not to laugh: "I have to quickly drink some water."
7. Paul. Pauuuuuuuuul. I adore and love this little boy. The WAY Montgomery described him - gawsh, it's really the prettiest description of a person ever in literature. "He had the most beautiful little face she had ever seen in a child . . . features of exquisite delicacy and refinement, framed in a halo of chestnut curls. His mouth was delicious, being full without pouting, the crimson lips just softly touching and curving into finely finished little corners that narrowly escaped being dimpled." Excuse me, but that's an impeccable description. So yes, I love Paul. Everything he says and does, even if it's super sentimental, I don't care. (Of course, boys like that don't exist. They just don't. But for once I don't care about that; I love Paul.)
8. All the letters from the pupils. #bestever.
9. Goodness, can you imagine being a teacher at the age of SIXTEEN?!!!! I can. Sounds pretty daunting to me. (I want to be a teacher though, so I love Anne for being one. Told you me and Anne are kindred spirits.)
I LOVE THIS BOOK. :-)
______________________________________________________________
(View all my reviews)
Anne of the Island

by L.M. Montgomery
My rating: 5 of 5 stars
Gahhhhhhhhhhhhhhhhhhhhhhhhhhhhhhhh.
How did I ever rate this book less than five stars???!!!!! It was brilliant. No, more than that. It was captivating, thrilling, and so emotional. I don't know why I got so emotional while reading this. I almost yelled out loud, and I cried about five times. GAH. THIS BOOK IS AMAZING. Where has my love for it been all my life?!!! Why have I not read this 20 times yet?!!!! I loved it to bits. Definitely a new all-time-favourite.
I loved it, okay?!!!!
What made me cry:
1. When Ruby Gillis died. No seriously. I was a wreck. I mean.... her and Anne's last conversation... it broke my heart . Ruby... oh Ruby. OH RUBY. And her unfinished embroidery work. AND HOW MONTGOMERY REVEALED HER ILLNESS TO ME. I cried so much. And I don't even love Ruby that especially much.
2. Okay... when was the second time I cried? Oh yes, Gilbert's first proposal. BECAUSE. BECAUSE. SHE SHOULD HAVE SAID YES SO BADLY. Gahh. *shakes fist at Ann.* (I wrote her name without an E deliberately. To tease her.)
3. Then I cried when Anne read her parent's letters. (Chances are high that I was crying at the song I was listening to at the moment. Carrie Underwood's 'Temporary Home' makes me cry.)
4. AND THEN THE END. I BAWLED.
Now. Zee list of things I LOVED:
1. Phill!!!! Phillipa Gordon was awesome. She's funny + honest + sweet + admits her faults. Reminds me of Anne; but then without all the whimsies and romantical thinking.
2. Anne is amazing too though. I love her completely, despite the fact that she's not thinking properly about Gilbert, and despite the fact that... no, she is still the old Anne. I love her sooo much. I love her nose; her everything. :-)
3. Davy is hilarious. I hate and love him at the same time.
4. The Alec and Alonzo thing is hilarious too. JUST SNORT.
5. GILBERT BLYTHE. I actually never fell in love with Gilbert Blythe - I liked him and all that, but I never had super big feelings for him. BUT THIS TIME. It changed, let me tell ya. I loved Gilbert sooooo much! HIS EYES. AND HOW HE LOOKS AT ANNE. AND HOW HE VISITS HER EVERY EVENING. AND HOW HE SENDS HER FLOWERS AND GETS THE INSIDE JOKES GOING. I fangirled ridiculously hard.
6. I shipped Gil and Anne SO hard. I'm exhausted. I seriously talked in fury against my kindle. "GET MARRIED. JUST GET MARRIED. ANNE STOP ANNNNNNNNNNE." I'm not kidding. I really did.
7. I was cheering at Miss Lavendar (aloud) when she said this:
"Because you were made and meant for each other, Anne—that is why. You needn't toss that young head of yours. It's a fact."
YEAH. SAY THAT MISS LAVENDAR.
8. THE ENDING.
I.... I... I just can't. It was beautiful. And I cried. The end.
List of things I didn't like:
1. Priscilla and Phillipa's names... I ALWAYS get them mixed up!!!! Annoys meh.
2. Nothing else, I believe. Some bits were a teeeeeeny bit boring; but all in all I loved this a ridiculous amount.
On the proposals:
I didn't necessarily NOT like this - I just thought it was slightly over-the-top. Anne got *counts* five proposals!!!! But since thinking about it properly, I think it's okay, actually. Lucy Maud Montgomery got six proposals, so I suppose she considered having loads of proposals dead normal. Also, weren't proposals in that time a bit like 'do-you-want-to-go-on-a-date-with-me's now? I don't know.
Anyway... her proposals:
1. Jane's brother. That was a boring proposal. "Oh it's okay. He likes Nellie too." HAHA.
2. Gilbert's first proposal.
IT BROKE MY HEART. SERIOUSLY.
How could she say NOOOOOOOOO?!!!
3. The worker-dude. "Can I hav yer?" *Lydia-snort*
4. Mr Harrison. I think he's creepy.
5. GIL AGAIN. AND YAYYY. NOW I CAN CRY
HAPPY
TEARS.
[ Anyway... her proposals:
1. Jane's brother. That was a boring proposal. "Oh it's okay. He likes Nellie too." HAHA.
2. Gilbert's first proposal. IT BROKE MY HEART. SERIOUSLY. How could she say NOOOOOOOOO?!!!
3. The worker-dude. "Can I hav yer?" *Lydia-snort*
4. Mr Harrison. I think he's creepy.
5. GIL AGAIN. AND YAYYY. NOW I CAN CRY HAPPY TEARS. (hide spoiler)]
It was absurdly good. Read it.
______________________________________________________________
(View all my reviews)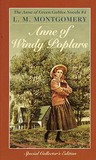 Anne of Windy Poplars

by L.M. Montgomery
My rating: 3 of 5 stars
So far, 'Anne of Windy Poplars' has to be my least favourite Anne book. This might change, because I did like it. Some bits I really liked. Some bits I found so boring I found myself taking a nap.
What I liked:
1. Windy Poplars. It sounds like such a beautiful place to live!!! Little hidey-holes and secret reading places?!!!! Yes Please. I'd love to live in Windy Poplars. (And the name is scrumptious.) (Did you know that it was originally called 'Anne of Windy WILLOWS?' They asked Montgomery to change it because it sounded too much like 'the wind in the willows.' Whatever.)
2. The little love lines were adorable. "I'm afraid I'm scandalously in love with you, Gilbert."
3. I love how this book was like a scrapbook. Bits of letters here and there; bits of third-person stories.
4. I still love Anne. Although she's not the old one anymore, and she's far too perfect, she still gets delighted about romantic stuff and she still has those Anne-ish whimsies.
What I didn't like:
1. I didn't do much fangirling. I would have loved more Shirbert.
2. I would have also LOVED to read Gilbert's letters.
3. Some bits were SO boring. I napped sometimes.
4. Anne is far too perfect. It annoys me.
______________________________________________________________
(View all my reviews)
Anne's House of Dreams

by L.M. Montgomery
My rating: 4 of 5 stars
I'm sitting here, wondering about the rating of this book. It's not a five-star read for me, definitely not. I thought it was too 'quiet' for an Anne book, and it bored me sometimes, not gonna lie. But I really loved the setting, and some of the new characters, and the darling twinkles of Anne and Gilbert's newly married life. Plus, I almost cried. So it's not a three-star read either. So a four-star read it is then. :-)
What I liked:
1. THE WEDDING PREPARATIONS. I am one of those girls who loves weddings and wedding Pinterest boards and all that kind of stuff. So obviously I loved reading all about my dear Anne 's wedding.
2. Gilbert's gaze when Anne walks down the aisle. Gahhhh. They're so cute and Gilbert is so good and patient and I love him. The love he has for her is dear and darling. I love them.
3. When he calls her 'my wife.' IT'S ADORABLE.
4. Like Anne, the 'beautiful blonde girl' fascinated me. Leslie. I like Leslie. She's like a quiet star in moonlight - fascinating and gorgeous and kind of sad. (Gosh, don't I sound poetical. Hush, I'm reading Montgomery.)
5. Miss Cornelia is a hoot.
6. I love that Diana calls her daughter Anne Cordelia. WE FANS KNOW WHY.
7. Sniff. T'was so sad when Joyce died, and so happy when Jem was born. I love Jem so much already.
8. "We haven't quarrelled yet," Gilbert teased. (LOVE it when he teases her.)
What I didn't like:
1. Quite a few bits were boring to me, and I don't really love Captain Jims, or whatever his name even was. Sorry. The bits with him were boring to me.
2. Like Anne (not Anne Shirley, haha) said in her review I think it's weird (plus so unromantic - I'm disappointed) that Anne and Gilbert have neighbours over on their very FIRST day/evening/night together in their house as a married couple. Come on.
I really liked it, but it wasn't my favourite.
______________________________________________________________
(View all my reviews)
Anne of Ingleside

by L.M. Montgomery
My rating: 4 of 5 stars
I actually liked this much better than I thought I would. I thought I would snooze 90% of the time, and roll my eyes at the 'perfect-family' that the Blythe family is. And... well. I did snooze sometimes. I'd say I snoozed 30% of the time; which isn't that much, y'know. And yes, I also rolled my eyes sometimes.
But! I just love these kids (I have a kind fascination + emotional, personal attachment to them) and it was actually pretty darn adorable. I really liked it.
What I liked:
1. All the kids, and their adventures. I am the biggest "Rilla of Ingleside" fan, ever, so reading about all my beloved characters in my favourite book ever as kids... it was just precious.
2. I loved all the little respective adventures the children had.
3. Walter's story about going to that horrible family and walking home in the night, thinking he mother had died... well, I felt so sorry for him, and almost cried. (Sorry, it's Walter. I love that boy to death and I cannot stand it when he's upset. IT'S UNFAIR.) It was beautifully written.
4. I loved Di's stories, about all her friendships going into shatters. Am I the only one who has to grin at the name "Diana Blythe." Because it makes me think What if Diana Barry married Gilbert. *shudder*
5. Nan is so gorgeous.
6. AND THEN WE HAVE LITTLE RILLA. She's so cute.
7. The first three chapters of the book were so adorable and OHMYGOODNESS Davy has a girl. He's grown so fast!
What I didn't like:
1. Anne is just WAY to perfect. Like, mothers like that do not exist. Sorry. Where is my whimsical Anne who always ends up in awkward situations?!!!
2. Some bits were dead boring.
All in all, I found this adorable. I wouldn't have liked it if I didn't love "Rilla of Ingleside" so much, though. I think only the real, big, Anne-fans can appreciate this book. :-)
______________________________________________________________
(View all my reviews)
Rainbow Valley

by L.M. Montgomery
My rating: 4 of 5 stars
Well that was stinking adorable. I loved it.
What I like:
1. All the Blythe children, but especially WALTER. I just love Walter to bunches and bits. I love when he fights despite not wanting to. And how he always dreams and thinks up whimsical things. He makes whimsies manly, Walter does. He's so sweet and I love him.
2. Una. SHE'S SO SWEET. The end.
3. Jem. Jem is a teenager now and he's so handsome and tall. Gah, these children.
4. I loved the beginning of this book, and just GAH. It's Montgomery. All her words and stories and chapters are jewels.
What I didn't really like:
1. I personally thought there was a leetle too much about about the Merediths (I do love them) and not enough about the Blythes.
2. Mary Vance annoys me.
I know this review is super short. But I'll just say that I really like this book, and that these children... GAH. I love them. Forever.
______________________________________________________________
(View all my reviews)
Rilla of Ingleside

by L.M. Montgomery
My rating: 5 of 5 stars
This book. THIS BOOK. Seriously, I have no words. I can only sit here and cry and sob like a baby. It was that good. Every reread makes me quiet in stunned awe; ever reread makes me tremble in the emotion, the beauty, the amazingness. This book is out-of-this-world amazing. I've decided it's my favourite novel.
(Um, this review contains a spoiler of a certain death. But you may want to be prepared for the death, so carry on reading.)
Soooooo.
1. I cried more than ten times. I'm sure of it.
2. I laughed (really laughed - not just the tsk-laugh) three times.
3. I REALLY cried. Like, tears dripped on my pyjama top. :,-(
4. AZRIOFZQEOZGUHUJFHUJIHDSUIDSGHUHUAAAAAAAAAAAAAAA!!!!!!!!!!!!
Right, so judged from those four points, I obviously OBVIOUSLY think this book is AMAZING AND UTTERLY COMPLETELY EMOTIONAL AND AMAZING AND HEART-MOVING.
Oh, this booooook. It's DEFINITELY one of my favouritest-of-favouritest books ever. It's definitely the book that gives me the most feels, it's MOST DEFINITELY the book that makes me cry the most. Goodness, I don't know WHAT this book DOES to me - but I just can.not. stop crying! Maybe it's because it's a re-read - I know what's going to happen to a certain favourite character of mine, and therefore in every paragraph where he's in I automatically start crying because I know that he's going to die. (I JUST LOVE HIM TOO MUCH I CAN'T BEAR IT.)
THIS BOOK. Ohhhhhhhhhhhhhhhhhhhhhhhhhhhhhhhhhhh.
But let me make a list or two. :-) Sort out my many thoughts and feels in a more organised manner, you know. It must be done, even when in utter tears and states such as mine currently.
What I ABSOLUTELY LOVE ABOUT THIS BOOK:
1. I own it. Hahahahahahahaha.
2. The fact that it gives me SO. MUCH. SORROW. That means it's amazing; right? That means it's written in the most amazing way ever, right? UGH. THIS BOOK MAKES ME CRY. I tell you again, TISSUES ARE NEEDED. (Seriously, the Amazon guys should add a tissue or two whenever they ship a copy of 'Rilla of Ingleside' somewhere. I might write a letter and tell them.)
3. Kenneth. He's so HAAAAAANDSOME. Plus, he's also pretty cool. AND I LOVE HIS SCAR IN THE END. I'm just in love with his scar. :-) And ohhh, it's so MEAN of Montgomery to stop the book so soon, just when Ken and Rilla are FINALLY reunited. I NEED ONE MORE CHAPTER. Please. I want to see them married. Ugh, Kenneth, you're adorable.
4. WALTER. I DON'T THINK I'VE EVER CRIED MORE FOR A FICTIONAL CHARACTER. I'M MADLY IN LOVE WITH HIM. SERIOUSLY. I WISH I WASN'T SERIOUS. (Also, he's the fictional character I've devoted the most capital letters to, I think. Hah.) He's probably my favourite fictional character of all time and he's a hero and I love him to bits.
5. Una. I basically AM Una. We're in the same Walter-position, anyway. I feel SO sorry for her, because she has a sad and lonely ending. Oh, and her lovely whistful dark blue eyes! AND WHEN WALTER GIVES HER A 'COMRADE-Y KISS' AT THE RAILWAY. I bawwwled. (surprise, surprise.)
6. Jem and Faith. Basically love them.
7. The DANCE. And the mooonlight scenes.
8. AND AND AND KEN AND RILLA'S KISS. I've gotta admit I've reread that bit a shamefull amount of times. It's funny how Montgomery makes something SO romantic and adorable and swoony from such an unromantic setting. (Susan was standing in the same room, for Pete's sake. Haha.)
9. Susan was funny - I have to admit she's not my favourite character, though. But she's fun and the book wouldn't be the same without her.
10. The BABY. OH I LOVE JIMS. Enough said, maybe.
11. WALTERS LETTER. (Be warned. Capital letters. (I really am unashamed of using Caps Lock in my Goodreads reviews, aren't I?)) OH MY GOODNESS EOQfjzQGINDIFH¨DH. WALTERS LETTER!!!!!!!!!!!!!!!!!!!!!!!!!!!!!!!!!!!!!!!!!!!!!!!!!!!!!!!!!!!!!!!!!!!!!!!!!!!
That's the part where I cry the most. Just saying. Especially when Rilla then gives it to Una. (I can't tell you how much a cry at this point.) OH UNA. I WISH YOU AND WALTER COULD MARRY.
12. EVERYTHING.
13. Rilla. GAWSH. She annoys me a little in the beginning, but as the book progesses.... What a great girl. I can relate to her so much it kind of hurts. I love how she has flaws, and never is "perfect."
14. WALTER.
15. Jeeeeeem.
16. Dog Monday. DOG MONDAY. I am literally the least-doggiest person in the WORLD. But my goodness. My eyes are waterworks when Dog Monday and Jem are finally reunited. WATERWORKS. I tell ya.
17. SHIRLEY. I love that boy.
18. WALTER IS MY FAVOURITE THOUGH AND OF COURSE HE DIES.
*cries for three hours*
What I didn't like:
1. Rilla annoys me in the beginning of the book. Also, it makes me angry how unlovable she is towards dear little Jim in the beginning.
2. I find the first chapter, about the cats, dead boring. Soary.
3. Also the bits about politics and what-happens-in-the-war are boring. Really.
4. THERE IS NO MOVIE. (I might write a script and send it to BBC or something. No really. I am considering this very seriously. A Christmas holiday project?)
BUT PLEASE.
READ THIS BOOK.
IT'S AMAZING. And that's honestly, sincerely not an exaggeration. I cannot even tell you - this review does not do justice at all. (And it's kind of ruined my Christmas. I'm going to cry all week.)
View all my reviews
______________________________________________________________